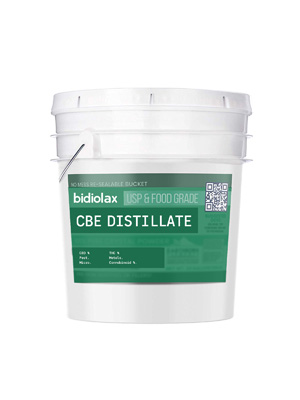 CBE Distillate
CBE Distillate. We are under research for providing CBE Distillate. Currently we provide CBD, CBG, and CBN as well as other cannabinoid distillate
CBE distillate (Cannabielsoin) from Hemp
Cannabielsoin ( CBE ) is a cannabinoid that was first observed in 1983 by researchers at Ohio State University while studying the metabolism of cannabidiol , the metabolite of which it is. Cannabielsoin was then at the University of Hokuriku in Japan tested for its biological education.
Cannabielsoin is present in suspension cultures of Cannabis sativa and Saccharum officinarum under normal growth conditions. It could also be detected in the liver of guinea pigs given cannabidiol intraperitoneally one hour earlier .  The compound shows little effect on body temperature and pentobarbital-induced sleep.
A total of five different cannabinoids from this group are known to date.
Cannabicyclol (CBL) – A cannabinoid in need of investigation
What studies say about CBL and CBE
CBL is not psychomimetic, therefore it doesn't cause hallucinations and doesn't induce the euphoric sensations that are triggered by THC or other psychoactive cannabinoids. This substance isn't scheduled by the Convention on Psychotropic Substances.
In what concerns CBE, the 1983 study observed suspension cultures of Cannabis sativa and Saccharum officinarum, showing that the cannabinoid appears under normal growth conditions from CBD in these cultures.
Then, one 1988 study analyzed the metabolites of CBD by two techniques called gas chromatography, respectively gas chromatography-mass spectrometry, and found that cannabielsoin was formed from cannabidiol as a new metabolite. According to this study, CBE was found in the liver of the guinea pig that was administered CBD intraperitoneally, 1 hour before sacrifice. The compound showed little effect on body temperature and pentobarbital-induced sleep.
One year later the same team of researchers showed that CBD is biotransformed to an intermediate compound, which is then immediately converted to CBE. The purpose of this study was to elucidate the formation mechanism of cannabielsoin, researchers observing the process in the guinea pig, rat, mouse and rabbit in vitro.
cannabielsoin (CBE Distillate)
metabolite of cannabidiol; structure given in first source
Cannabinol (CBN), in the case of cannabis there are several cannabinoids that come from the degradation or transformation of other compounds. In fact, as is well known today, CBG (Cannabigerol) is the precursor of the different cannabinoids found in marijuana. If you need bulk CBE Distillate please let us know by contacting us here
Bulk CBE Distillate
We work directly with large scale hemp processors processors to source and distribute hemp-derived CBE Distillate and other CBD products in North America and internationally. We sell bulk hemp and CBE Distillate extracts in legal markets only
Wholesale CBE Distillate
We sell our CBE Distillate directly to licensed processing and manufacturing companies in the pharmaceutical, nutraceutical, biotechnology and food and beverage sectors.
CBE Distillate
Distillate is clear golden viscous liquid, though is often solid at room temperature as purity increases – looking like a white wax like solid.
Wholesale US Medical Hemp
In the US, we are one of the largest cannabinoid crude oil producers in the United States. We have have 6 V2 Inline Extraction machines that can produce roughly 6,000 L per machine. When running at full capacity we can produce 36,000 L of cannabinoid crude oil per 
Hemp-derived CBE Distillate Offtake / Futures Contracts
We have issued offtake agreements to purchase low THC hemp-derived distillate and other concentrates for local processing and export.
These will be derived from hemp grown under GAP (Good Agricultural Practice) conditions and processed under GMP compliant and certified facilities to allow sale internationally to approved purchasers.
Note, these standards aren't yet relevant in the current US CBE Distillate market.
If you require large quantities of crude oil or are a processor seeking oil for further refinement or manufacturing please contact us.
Our labs have large requirements for quality certified biomass, so if you are an experienced farmer, cooperative, nation or investment group seeking to enter the high CBE Distillate hemp production space please contact us to discuss potential orders.
Note we work direct with farmers, processors and manufacturers and their registered agents. All applicants must be qualified for production capability or purchase funds and intent prior to any pricing discussions.
Wholesale CBE Distillate
If you require wholesale CBG Crude oil please complete a wholesale product enquiry form and our sales team will contact you.
Info About Bidiolax
Bidiolax provides bother international and USA-grown hemp biomass,CBD isolate, CBD Distillate, CBE Distillate, feminized seeds, tolling and biomass conversion services for businesses needing wholesale and white-label options. Also, CBL Crude Oil for other certain laboratories. If you need CBG Hemp Clones, please contact us!
Bidiolax purchases international hemp and uses hemp grown in the United States to provide at wholesale for businesses needing product. We also provide flower-to-isolate conversion services for businesses needing white-label (private label) isolate or end-user, wholesale CBD isolate, CBL Crude oil to infuse in their CBD product lines.
Bidiolax has access to the majority share of US-grown hemp biomass in the industry and we can prove it, unlike the "other guys." Our relationships with the hemp farmers in the U.S. are unmatched and our B2B services yield the highest quality product on the market. We'll provide you with our COA and send you a sample to test independently before you buy bulk.
Our flower-to-isolate solution includes: Extraction | Winterization | Decarboxylation | Distillation | Isolation
A cut above. All natural. Zero-trace of THC. A flower-to-isolate solution for all.
Our wholesale opportunities include a wide range of products like CBG crude oil, CBE Distillate, and CBG isolate. We will soon be launching ready-to-sell options for isolate-infused products in addition to our hemp biomass and CBG isolate.
FAQ
What is your potency goal for CBE Distillate?
We aim to achieve 95.0% potency for our CBE Distillate, extracted with GMP and in compliance with all regulatory requirements. Extraction results that do not meet our requirements are not available for our clients or our retail brands.
Are you a CBE Distillate broker?
No. We do not use middle-men or brokers to manufacture our end-user needs and we use our own CBG biomass to supply our V2 Inline ethanol extraction machines to create CB: Crude Oil. Then we manufacture the crude oil into CBE Distillate
What types of retail products will you offer besides CBE Distillate?
We offer CBE Distillate to our customers. Besides, CBE Distillate, we will offer 4 lines of products including CBD oil (tinctures) for humans and pets, health and beauty products, pet treats, edibles (gummies), and CBD Distillate for vapes.
Only logged in customers who have purchased this product may leave a review.