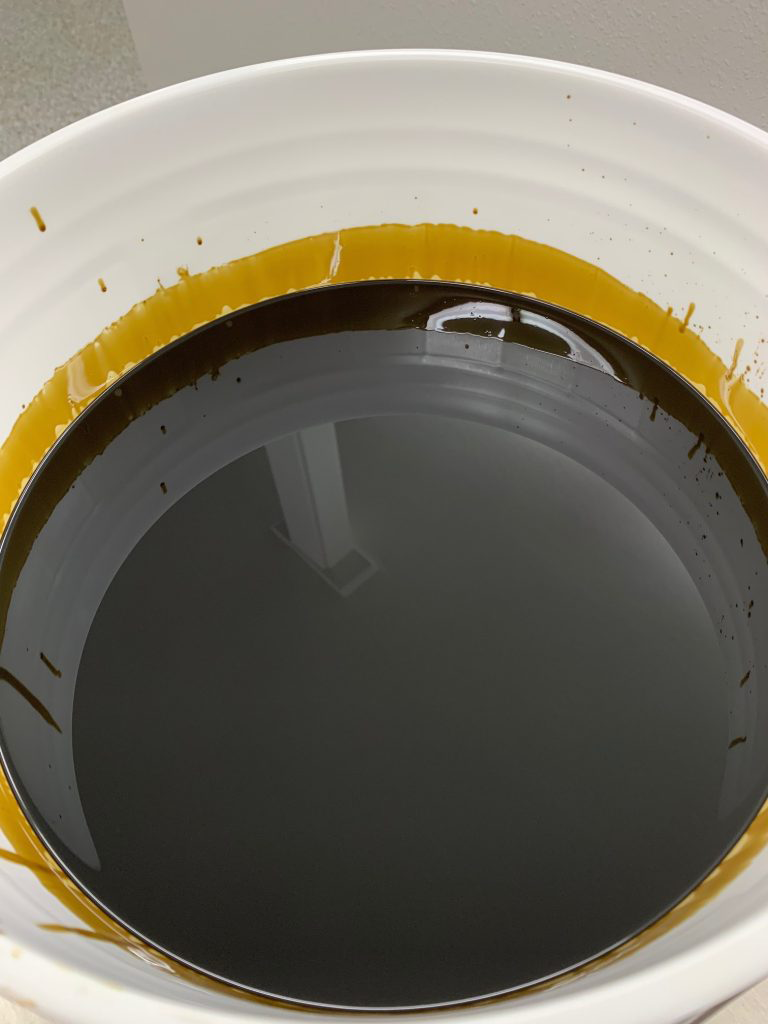 CBC Crude Oil
Winterized Decarbed CBG Crude Oil with high CBC purities.  Cannabichromene (CBC) is a non-psychoactive cannabinoid with a host of potential therapeutic applications. CBC may carry pain relieving properties, act as a potent anti-inflammatory agent, assist with digestive and gastrointestinal disorders, possess antibacterial and antifungal efficacy, and could potentially contribute to the regeneration of brain cells
CBC Crude Oil (Cannabigerol) from Hemp
Cannabichromene (CBC Crude Oil) is a highly refined cannabis extract often derived from high CBD hemp flower and hemp biomass
Cannabichromene (CBC), also called cannabichrome, cannanbichromene, pentylcannabichromene or cannabinochromene,[1] is one of the hundreds of cannabinoids found in the Cannabis plant, and is therefore a phytocannabinoid. It bears structural similarity to the other natural cannabinoids, including tetrahydrocannabinol (THC), tetrahydrocannabivarin (THCV), cannabidiol (CBD), and cannabinol (CBN), among others.CBC and its derivatives are as abundant as cannabinols in cannabis. It is not scheduled by the Convention on Psychotropic Substances.
As of 2017, CBC is under laboratory research to identify its possible pharmacological properties. No in vivo human studies exist as of 2019. In vitro, CBC is not active at CB1 or CB2 receptors, but is an agonist of TRPA1 and less potently, an agonist of TRPV3 and TRPV4.[2] CBC has two stereoisomers.
What is CBC Crude Oil?
CBC Crude Oil has the same origins as both THC and CBD do in that they all stem from cannabigerolic acid (CBGA). Cannabis plants produce CBGA, the precursor to three major cannabinoids: tetrahydrocannabinolic acid (THCA), cannabidiolic acid (CBDA), and cannabichromenic acid (CBCA).
CBG Crude Oil Liter in Pueblo, Co Facility
CBG Crude Oil Liter. Bulk CBG Crude Oil. 70%+ WInterized Decarbed CBG Crude Oil
CBG Crude Oil Liter in Pueblo, Co Facility
What is CBC?
The specific plant enzymes cascade and "direct" the breakdown product into one of the three lines. For CBC, it converts from CBGA into cannabichrome carboxylic acid (CBCA), and then finally to CBC after exposure to heat or ultraviolet light.
CBC Works With Other Cannabinoids
CBC is non-intoxicating, so it doesn't produce a euphoric high like THC. The reason it is non-intoxicating is because it binds poorly to CB1 cannabinoid receptors in the brain. But CBC does bind with other receptors in the body, such as the vanilloid receptor 1 (TRPV1) and transient receptor potential ankyrin 1 (TRPA1), both of which are linked to pain perception. When CBC activates these receptors, increased levels of the body's natural endocannabinoids like anandamide are released.
While CBC definitely has singular benefits, researchers also think that it seems to synergistically work with other cannabinoids, a term known as the entourage effect. This effect of THC and CBD working together is well-known, but whether other cannabinoids have entourage effects is not well understood.
CBC's Medicinal Potential
The purported benefits of CBC have far-reaching implications. Below are a few medical conditions that may be alleviated by cannabichromene.
Cancer
Cannabichromene may be a powerful cancer fighter, and the reason might be its interaction with the body's natural endocannabinoid, anandamide. CBC also appears to inhibit the uptake of anandamide, allowing it to remain longer in the bloodstream.
A recent study in which tumor growth was initiated in mice (two-stage mouse skin carcinogenesis model) showed cannabinoids might be effective in inhibiting both inflammation and tumor growth. Since anandamide has been shown to fight breast cancer in vitro and in vivo, this shows promise that CBC and other cannabinoids might one day be a chemopreventive agent.
CBC as a potential cancer fighter was first published in a 2006 study that looked at cannabinoids other than THC and their possible effects on cancer. While THC is known for its anti-tumor properties for several different forms of cancer, its powerful psychotropic qualities can make it difficult for chemotherapy use. So far, research has found CBC to be the second-most-potent cannabinoid at inhibiting the growth of new cancer cells (CBG was the most potent).
Pain and Inflammation
Cannabichromene has been shown to block pain and inflammation associated with collagen-induced osteoarthritis. Cannabinoids like CBC act on inflammation differently than non-steroidal anti-inflammatory drugs (NSAIDs) do, and don't have the side effects of these medications. In another example of the entourage effect, CBC in combination with THC had significant anti-inflammatory response in a recent animal study; together, the two cannabinoids produced a much greater effect on inflammation than by themselves.
Brain Cells
In a 2013 mouse study, CBC had a positive effect on neural stem progenitor cells (NSPCs), a cell essential to healthy brain function. NSPCs became more viable when in the presence of CBC, and that shows promise because NSPCs differentiate into astroglial cells, the most important cells for maintaining brain homeostasis. The astroglial cells perform a whole host of functions, including neurotransmitter direction and defending against oxidative stress. Astroglia counteract many of these issues—oxidative stress, inflammation, toxicity—that create neurological diseases and brain pathologies like Alzheimer's disease.
Acne
A research team that had previously shown CBD's effect on acne studied other cannabinoids, including CBC, for the same effects. Indeed, CBC was shown to be a powerful inhibitor of acne. As a skin disease, acne is characterized by excess sebum production and sebaceous gland inflammation. It turns out that CBC exhibited powerful anti-inflammatory properties and also suppressed excessive lipid production in the sebaceous glands. CBC also reduced levels of arachidonic acid (AA), which is needed to create the lipogenesis. More research is needed, but CBC might just one day become a very powerful anti-acne treatment.
Depression
In another amazing display of the entourage effect, CBC appears to work in conjunction with both THC and CBD to deliver a trifecta of antidepressant properties.
The therapeutic promise of CBC is important and requires more research to determine its power by itself as well as with other cannabinoids working together for an entourage effect. Cannabis patients today are limited in the products available to them, but hopefully as new studies emerge and cannabis laws loosen, new medicines with a diversity of cannabinoids will soon become an option.
Bulk CBC Crude Oil
We work directly with large scale hemp processors processors to source and distribute hemp-derived CBC Crude Oil and other CBD products in North America and internationally. We sell bulk hemp and CBC Crude Oil extracts in legal markets only
Wholesale CBC Crude Oil
We sell our CBC Crude Oil directly to licensed processing and manufacturing companies in the pharmaceutical, nutraceutical, biotechnology and food and beverage sectors.
CBG Distillate
Distillate is clear golden viscous liquid, though is often solid at room temperature as purity increases – looking like a white wax like solid.
We can source or manufacture to your specifications with CBG content from 25% to 35%+
Wholesale US CBC Crude Oil
In the US, we work with large established processors and also design, build and operate new large scale hemp processing labs.
We have partnered with North America's largest Supercritical CO2 extraction company to develop large scale turnkey labs capable of processing 1000s of pounds of biomass daily to meet the growing demand for high quality CBC Crude Oil from US hemp.
We also source and sell biomass, and work direct with large cultivation groups, farmer's cooperatives and First Nation groups to supply the large quantities of hemp biomass required for large scale CBG production..
Hemp-derived CBC Crude Oil Offtake / Futures Contracts
Internationally, we have issued offtake agreements to purchase low THC hemp-derived distillate and other concentrates for local processing and export.
These will be derived from hemp grown under GAP (Good Agricultural Practice) conditions and processed under GMP compliant and certified facilities to allow sale internationally to approved purchasers.
Note, these standards aren't yet relevant in the current US CBC Crude Oil market.
If you require large quantities of crude oil or are a processor seeking oil for further refinement or manufacturing please contact us.
Our labs have large requirements for quality certified biomass, so if you are an experienced farmer, cooperative, nation or investment group seeking to enter the high CBC Crude Oil hemp production space please contact us to discuss potential orders.
Note we work direct with farmers, processors and manufacturers and their registered agents. All applicants must be qualified for production capability or purchase funds and intent prior to any pricing discussions.
Wholesale CBG Distillate
If you require wholesale CBC Crude oil please complete a wholesale CBG product enquiry form and our sales team will contact you.
Info About Bidiolax
Bidiolax provides bother international and USA-grown hemp biomass, CBD isolate, CBD Distillate, CBC Crude Oil, feminized seeds, tolling and biomass conversion services for businesses needing wholesale and white-label options. Also, CBC Crude Oil for other certain laboratories. If you need CBG Hemp Clones, please contact us!
Bidiolax purchases international hemp and uses hemp grown in the United States to provide at wholesale for businesses needing product. We also provide flower-to-isolate conversion services for businesses needing white-label (private label) isolate or end-user, wholesale CBD isolate, CBC Crude oil to infuse in their CBD product lines.
Bidiolax has access to the majority share of US-grown hemp biomass in the industry and we can prove it, unlike the "other guys." Our relationships with the hemp farmers in the U.S. are unmatched and our B2B services yield the highest quality product on the market. We'll provide you with our COA and send you a sample to test independently before you buy bulk.
Our flower-to-isolate solution includes: Extraction | Winterization | Decarboxylation | Distillation | Isolation
A cut above. All natural. Zero-trace of THC. A flower-to-isolate solution for all.
Our wholesale opportunities include a wide range of products like CBC crude oil, CBG distillate, and CBG isolate. We will soon be launching ready-to-sell options for isolate-infused products in addition to our hemp biomass and CBG isolate.
What is your potency goal for CBG isolate?
We aim to achieve 99.5% potency for our CBG isolate, extracted with GMP and in compliance with all regulatory requirements. Extraction results that do not meet our requirements are not available for our clients or our retail brands.
Are you a CBC Crude Oil broker?
No. We do not use middle-men or brokers to manufacture our end-user needs and we use our own CBC biomass to supply our V2 Inline ethanol extration machines.
What types of retail products will you offer?
We will offer 4 lines of products including CBD oil (tinctures) for humans and pets, health and beauty products, pet treats, edibles (gummies), and CBD Distillate for vapes.
Only logged in customers who have purchased this product may leave a review.