CBD Isolate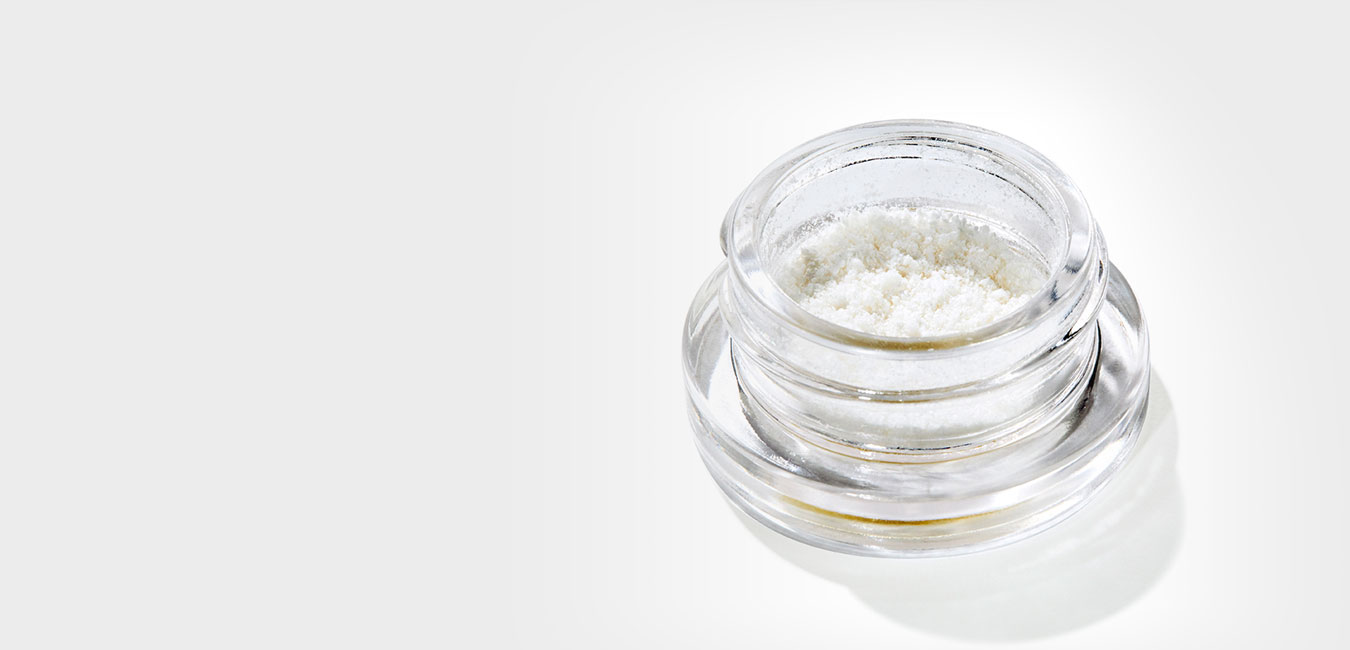 Crystalline CBD Isolate is extracted through denatured ethyl alcohol extraction. The Industrial Hemp CBD is sourced through United States Growers who have registered locations with their state Department of Agriculture. It is a pure, crystalline powder that contains a minimum of 98% CBD.
CBD (CBD Isolate) is a compound that has shown promise in a variety of medical applications, from pain relief to relieving anxiety, and many other ailments in between. A major benefit to CBD is that it doesn't contain THC, which is the compound that makes users high, so this makes CBD an ideal medication for everyday adults and pets. Bidiolax specializes in the production of CBD Crude Oil which can then be isolated in CBD isolate
What is Cannabidiol?
CBD Isolate has been recently covered in the media, and you may have even seen it as an add-in booster to your post-workout smoothie or morning coffee. What exactly is CBD Isolate? Why is it suddenly so popular?
CBD stands for cannabidiol. It is the second most prevalent of the active ingredients of cannabis (marijuana). While Cannabidiol is an essential component of medical marijuana, it is derived directly from the hemp plant, which is a cousin of the marijuana plant. While Cannabidiol is a component of marijuana (one of hundreds), by itself it does not cause a "high." According to a report from the World Health Organization, "In humans, CBD exhibits no effects indicative of any abuse or dependence potential…. To date, there is no evidence of public health related problems associated with the use of pure CBD."
The evidence for CBD (Cannabidiol) health benefits
CBD Isolate has been touted for a wide variety of health issues, but the strongest scientific evidence is for its effectiveness in treating some of the cruelest childhood epilepsy syndromes, such as Dravet syndrome and Lennox-Gastaut syndrome (LGS), which typically don't respond to antiseizure medications. In numerous studies, CBD Isolate was able to reduce the number of seizures, and in some cases it was able to stop them altogether. Videos of the effects of CBD on these children and their seizures are readily available on the Internet for viewing, and they are quite striking. Recently the FDA approved the first ever cannabis-derived medicine for these conditions, Epidiolex, which contains Cannabidiol.
Cannabidiol is commonly used to address anxiety, and for patients who suffer through the misery of insomnia, studies suggest that CBD may help with both falling asleep and staying asleep.
Cannabidiol may offer an option for treating different types of chronic pain. A study from the European Journal of Pain showed, using an animal model, Cannabidiol applied on the skin could help lower pain and inflammation due to arthritis. Another study demonstrated the mechanism by which Cannabidiol inhibits inflammatory and neuropathic pain, two of the most difficult types of chronic pain to treat. More study in humans is needed in this area to substantiate the claims of CBD proponents about pain control.
How Does CBD Work?
Side effects of CBD include nausea, fatigue and irritability. CBD can increase the level in your blood of the blood thinner coumadin, and it can raise levels of certain other medications in your blood by the exact same mechanism that grapefruit juice does. A significant safety concern with Cannabidiol is that it is primarily marketed and sold as a supplement, not a medication. Currently, the FDA does not regulate the safety and purity of dietary supplements. So you cannot know for sure that the product you buy has active ingredients at the dose listed on the label. In addition, the product may contain other (unknown) elements. We also don't know the most effective therapeutic dose of CBD for any particular medical condition.
General Information
Appearance: Clear or white crystalline powder
Odor: No significant odor
Flavor: No significant flavor
Consistency: Fine-coarse powdered crystal
Solubility: Soluble with oils
Composition: 100% Hemp extract by weight
Plant Parts Used in Oil: Stalk, stem, flower, seed
Application and Use: Industry specific per customer
Products Used In: Isolated CBD for Various topicals and cosmetics
Country of Origin: United States of America
Shelf Life 
12 months from manufacture
STORE IN A COOL, DRY PLACE AWAY FROM DIRECT SUNLIGHT DO NOT FREEZE
Allergen Statement 
Does not contain milk, eggs, peanuts, tree nuts, fish, shellfish, soy, or wheat.
Food and Drug Administration Disclosure​ ​ 
These statements have not been evaluated by the Food and Drug Administration.
This product is not intended to diagnose, treat, cure, or prevent any disease.
*Federally Compliant per guidelines within the 2018 Farm Bill.
Storage Recommended Temp  Container
<76°F (<25°C) Food grade screw top buckets or aluminum bottle with tamper evident cap
Cannabinoid Content
CBN        70-95%
THC*     0%
CBG       2-7%
CBD       0%
Cannabidiol Info
Molecular Weight  314.46
Melting Point 156°F (69°C)
Residual Solvents  
Pentane <500 ppm
Acetone <500 ppm
Isopropyl Alcohol  <500 ppm
Hexane <25 ppm
Methanol ND
Heptane ND
Elemental Impurities 
Arsenic <1.5 ppm
Cadmium <0.5 ppm
Lead <1 ppm
Mercury <25 ppm